Where are Whiting's Parks?
Posted by Public Works & Parks | July 2011 |
Click on map to enlarge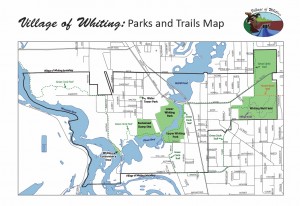 COMPOST SITE
Hours of operation will remain the same as last year.
Wednesdays: 8:00 a.m. – 5:00 p.m.
Saturdays: 10:00 a.m. – 2:00 p.m.
The compost site will open for the season on April 4th, 2018 and will close for the season on November 14th, 2018.
---
Grass, Leaves, and Branches up to 6″ diameter are accepted.  No stumps, roots, garbage, or recyclable materials are accepted.  Please cover trailers to avoid losing yard waste!  Separate sticks and branches from grass and leaves!  Finished Compost and Wood Chips (when available) are provided free of charge to Village residents.